Dwayne Johnson and Kevin Hart have done a bunch of movies together. A few of which are Fast and Furious, Jumanji, Central Intelligence, etc. Fans love these two actors and their chemistry both on-screen and off-screen. The two superstars share a close bond with each other.
ADVERTISEMENT
Article continues below this ad
Fans are always on the quest to know more about their favorite superstars and everything in their life. In an old interview from six years ago, Flex Kavana addresses a question from a fan that involved his best friend, Kevin Hart.
Dwayne Johnson says he is not funny
ADVERTISEMENT
Article continues below this ad
Johnson sat down for a video released on 6 Sept 2016 to do a ' Rock Q&A' session on YouTube. In the Q&A session, he read comments from his beloved fans and gave answers to those questions one by one.
One such question from a fan was on the subject that The Rock should do standup comedy with the American comedian and actor. The People's Champion responded to this by saying, "I love Kevin Hart. Kevin Hart is literally like my brother. And I really appreciate that guy, but look, here's the thing. He's funny, I gotta let him be funny and me, I smell good."
DIVE DEEPER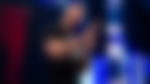 It was Rocky's way of saying he was not good at doing comedy, unlike his best friend/brother Hart. But we all know how good Rocky Maivia is with his friendly banters.
Johnson's new best friend
The Most Electrifying Man in All of Entertainment was the host of this year's Grammy Awards. At the event, The Corporate Champion, a huge fan of Adele, met her, who is also a huge fan of The Rock, for the first time. Both of them had a great time meeting each other at the event.
ADVERTISEMENT
Article continues below this ad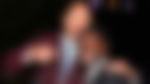 At the event, Johnson called the 34-year-old singer onto the stage to receive her Grammy award for the best pop solo performance of the year. When The Brahma Bull called her, he addressed her as his best friend. Not only that, but he also posted the moments of his meeting with the England-born superstar on his social media profile and referred to her as her best friend there, too.
Watch this story – Top Six Hollywood Movies of Former WWE Champion Dwayne "The Rock" Johnson
ADVERTISEMENT
Article continues below this ad
This move from The Great One led the fans to think that The People's Champion has removed the 43-year-old comedian from his 'best friend' position and given that spot to the English singer and songwriter. Fans left a handful of comments on this matter.
What is your take on Johnson referring to Adele as her new best friend?