LOS ANGELES, CALIFORNIA: 'Not Dead Yet', a new ABC sitcom starring Gina Rodriguez as a reluctant obituary writer who learns she can see and speak with the dead people she is writing about, has an undoubtedly interesting story to tell. Rodriguez, who portrays the title character on The CW's 'Jane The Virgin', contributes a lot of the same genuine comedy and emotional intelligence that she showed in abundance. Alongside Gina, Hannah Simone, and Lauren Ash also star in the TV sitcom. 
ADVERTISEMENT
'Not Dead Yet' is a television drama that was developed by David Windsor and Casey Johnson, the co-executive producers of 'This Is Us', and was based on Alexandra Potter's novel 'Confessions Of A Forty-Something F**k Up'. The ABC comedy premieres on Wednesday, February 8, 2023. Well, now that you are eagerly waiting for 'Not Dead Yet' to premiere on TV, here's a list of other sitcoms touching the topic of ghosts and the afterlife with a lot of comedy. Let's check the list out.
RELATED ARTICLES
Netflix 'Blasted': 5 things to know about Norwegian sci-fi comedy
From 'A lot like Love' to 'Your Place or Mine,' Ashton Kutcher's binge-worthy romantic movies
1. 'Ghosts' (HBO Max)
ADVERTISEMENT
Created by Joe Port and Joe Wiseman, the show's official synopsis reads, "A young couple's dreams come true when they inherit a beautiful country house, only to find it's both falling apart and inhabited by many of the deceased previous residents." The human leads are kind-hearted, whereas the "ghosts" are odd. Another feel-good comedy that doesn't hesitate to go into the morbidly funny stars Rose McIver, Utkarsh Ambudkar, and Brandon Scott Jones. Watch 'Ghosts' on HBO Max.
2. 'The Good Place' (Netflix)
ADVERTISEMENT
The ensemble cast of funny characters in 'The Good Place' includes Ted Danson and Kristen Bell. The setting is the afterlife. It combines the drama of life and death with amazing humor and appealing characters. On the other hand, it places a strong emphasis on the whole significance of life. 'The Good Place' is available to stream on Netflix and Peacock.
3. 'Upload' (Prime Video)
ADVERTISEMENT
'Upload' shows that Prime Video does not avoid shying away from the afterlife. Although 'Upload' leans more towards the serious (the series features a murder investigation and corporate plot), it also has fun making jokes about a dystopian future with a cyber-afterlife. 'Upload' is available to stream on Prime Video.
4. 'After Life' (Netflix)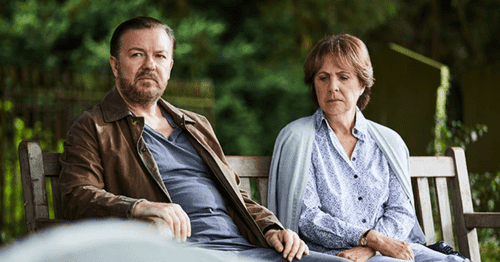 ADVERTISEMENT
Ricky Gervais, who portrays Tony Johnson, the main character in the British dark comedy-drama series After Life, is the show's creator, writer, producer, and director. Following newspaper journalist Tony Johnson, whose life is flipped upside down after his wife dies from breast cancer in the fictional town of Tambury, He considers killing himself but instead decides to live his life doing whatever he wants, saying whatever he wants, and without caring what other people think, as a way of making the world pay for the death of his wife. 'Afterlife' is available on Netflix
5. 'Miracle Workers' (HBO Max)
ADVERTISEMENT
The Daniel Radcliffe, Steve Buscemi, and Geraldine Viswanathan-starring TBS original 'Miracle Workers' ponders both the afterlife and the past. The show's first season is set outside of the human realm, with Steve portraying a humorous "God," but the second season is set during the "Dark Ages." The third season, 'Oregon Trail', takes viewers to a different time in history, yet every season is hilarious. The show is available on HBO Max.