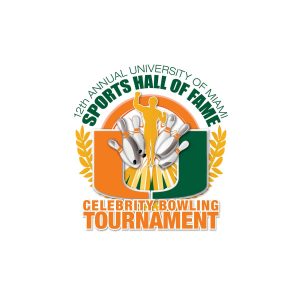 University of Miami Sports Hall of Fame member Alonzo Highsmith will serve as the celebrity host of the UMSHoF's 12th annual Celebrity Bowling Tournament on Monday, Feb. 27, from 6 to 9 p.m., at Kings Dining and Entertainment in Doral.
"It's an honor to be a part of this year's bowling tournament as its host," said Highsmith, currently serving as the general manager of Football Operations for the Hurricanes. "I'm forever grateful to the University of Miami, its fans, and the Hall of Fame. I look forward to seeing everybody there at the tournament."
A portion of the proceeds will benefit the Russell Education Foundation, founded by former Hurricanes and Dolphins linebacker Twan Russell in 1998 to help low-income students with after school and summer learning programs.
"As we prepare for the 12th year of our annual celebrity bowling tournament, we're excited to be partnering this year with the Russell Education Foundation. We're also pleased to announce that this year's host will be UM Sports Hall of Famer Alonzo Highsmith," said bowling tournament chair Gerard Loisel.
Canes fans can bowl with some of their favorite former Canes all-stars in a relaxing evening of family fun, food and Hurricanes camaraderie. Other Hurricane greats who have attended past bowling tournaments include Reggie Wayne, Jeremy Shockey, Jon Jay, Kenny Calhoun, Charles Johnson, Clinton Portis, Steve Edwards, Santana Moss, Albert Bentley, Bubba Franks, Brett Romberg, KC Jones, Randal Hill, Eric Brown, Tracy Kerdyk, Darrin Smith and Heisman Trophy winner Gino Torretta. A Celebrity Bowl-Off will take place after the evening's regular bowling event.
Teams start at $500 for four bowlers, regular sponsor lanes are $1,200 and premium sponsor lanes are $1,700. A Satellite Team, which can bowl anywhere around the country on the same day, is $350. Social tickets can be purchased for $50 for adults and $25 for children over 10, or a Family Pack that includes two adults and two children for $125. This year, a portion of the proceeds from the event will go to the Russell Education Foundation, the family charity of former Hurricanes and Dolphins player Twan Russell.
For more information on being a sponsor, bowling teams and social tickets, go to CanesBowl.com or call the Hall of Fame at 305-284-2775.
Miami Community Newspaper is an online newspaper that provides up-to-date local news and information about the Miami community. This daily newspaper provides local news coverage and keeps its readers up to date on the latest developments in the area. Their website also includes a Miami community podcast, where listeners can get the latest news and updates on the Miami community. Miami Community Newspapers is the perfect source for all your local Miami news needs, whether it is from their daily newspaper, podcasts, or other media sources.