Shrinking
Ted Lasso's Bill Lawrence and Brett Goldstein team with star Jason Segel (How I Met Your Mother) as co-creators of a poignant comedy that blends raw sentiment with wry irony. Segel is Jimmy Laird, a therapist still deep in grief after his wife died a year earlier. Jimmy's newly unorthodox methods with his patients rankle his curmudgeonly boss (the great Harrison Ford) while causing ripple effects among those who know and care about him. The expert ensemble includes Michael Urie as Jimmy's upbeat best friend and Christa Miller as the nosy neighbor who takes Jimmy's disgruntled daughter Alice (Lukita Maxwell) under her wing. Shrinking has such affection for its funny, flawed characters that you may wish to book extra sessions.
You People
black-ish creator Kenya Barris is director and co-writer (with star Jonah Hill) of a comedy that evokes Guess Who's Coming to Dinner in the culture-clash romance of Ezra (Hill) and Amira (Lauren London). Their meet-cute inevitably leads to a meeting of their families, with the Muslim Mohammeds (Eddie Murphy and Nia Long) and the Jewish Cohens (Julia Louis-Dreyfus and David Duchovny) trying to get along for the sake of their lovebird offspring.
Shotgun Wedding
Also making noise is a raucous action farce starring Jennifer Lopez and Josh Duhamel as a couple whose exotic destination wedding is interrupted by terrorists who take the entire wedding party hostage. Except for the bride and groom-to-be, who go all Die Hard to save the day. The strong supporting cast includes The White Lotus Emmy winner Jennifer Coolidge, Sonia Braga, Cheech Marin, D'Arcy Carden and Lenny Kravitz.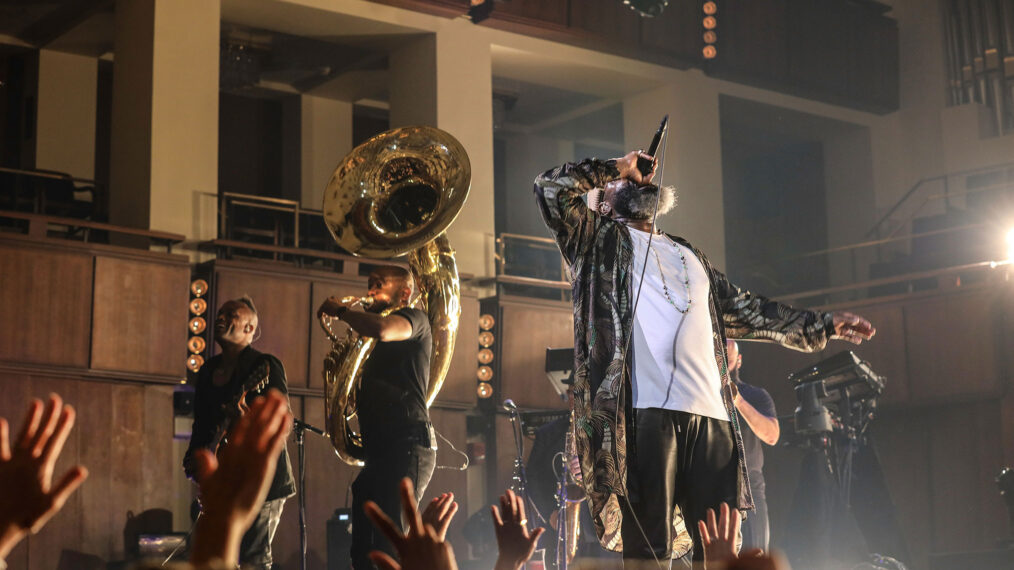 Next at the Kennedy Center
Moonlighting from their gig as the Tonight Show house band to become the first artist-in-residence for the Kennedy Center's Hip Hop Culture Program, The Roots performs in concert. They also share the stage with emerging artists being fostered by the program, including Durand Bernarr, singer-songwriter India Shawn and D.C.-based Ezy Truth.
INSIDE FRIDAY TV:
U.S. Figure Skating Championships (8/7c, NBC, also streaming on Peacock):The competition from San Jose culminates this weekend with live prime-time coverage on NBC and Peacock. Friday's main event is the Senior Women's Free Skate, with Isabeau Levito, the reigning junior world champion, ranked as the top American woman. Terry Gannon does the play-by-play alongside former Olympians Tara Lipinski and Johnny Weir. (Coverage of the Men's Short Program airs earlier, at 4:15/ET on Peacock and 5 pm/ET on USA Network.)
Boys in Blue (8/7c, Showtime): In the final chapter of the Minneapolis-set docuseries about the bond between the minority players of North Community High School's football team and the all-police coaching staff, a state tournament looms for the Polars when another shocking murder rocks the North Minneapolis community.
RuPaul's Drag Race (8/7c, VH1): Janelle Monáe, a breakout star of Glass Onion: A Knives Out Mystery, is guest judge when the queens turn home décor into high fashion.
20/20 (9/8c, ABC): The true-crime newsmagazine examines the case of Manhattan mother-banker Shele Covlin, who was found dead in her bathtub on New Year's Eve 1999—her death ruled accidental until an exhumation revealed she had been strangled, implicating her husband.
Tár (streaming on Peacock): Playing catch-up with Oscar favorites? Todd Field's acclaimed drama makes its streaming debut, starring lead actress front-runner Cate Blanchett (already a two-time Oscar champ) as a controversial composer/conductor.
We Are Not Alone (streaming on The Roku Channel): Laurence Rickard and Bill Willbond, co-creators and stars of the original U.K. version of CBS hit Ghosts, turn to aliens in their new comedy film, about a race called the Gu'un who invade Earth only to learn that humans aren't so easy to control—or understand.