Comedian Annie Brass is set to perform in the all-female Aunty Show on Friday night at The Exchange as part of the Winterruption festival.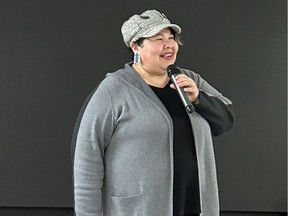 Reviews and recommendations are unbiased and products are independently selected. Postmedia may earn an affiliate commission from purchases made through links on this page.
Article content
Annie Brass's next performance won't be just for laughs.
Article content
Hosted by Zoey Roy, the all-female show features performances by Brass along with multi-disciplinary artists Tai Reign (poet), Kris Alvarez (theatre artist), and Raven Sage (singer, dancer, actor).
The night also includes a fashion show and artist market.
"I really am honoured to be part of it," said Brass. "It's a really big deal because … most of the cast is Indigenous. In Indigenous culture, we're matrilineal. We often lead with women — and aunties take a key role in the shape of the family. So it's really nice to have that come to the forefront and be celebrated."
Article content
Brass is also excited to be part of a female-only lineup.
"We all come from different walks of the entertainment world," she noted. "Being that we're all female is so cool because women for the longest time have not been recognized in the entrainment world. Here we are in Regina, being recognized."
Brass, who's from Kawacatoose First Nation, got her start in 2003 by performing in First Nation communities. She eventually moved to Regina and decided to check out the open mic shows.
In fact, she's hosting an open mic event on Saturday night at Shannon's Pub.
"I kind of came into comedy through the back door. Most people do their time at the open mics in the beginning. I didn't do that. I started out with one-hour shows on the reserves," said Brass, who grew up watching old TV comedies like the Carol Burnett Show and the Gong Show. "I got this thought in my head that, 'when I grow up, I want to do that.' So here I am doing that now. I'm going to be 55 years old this year. I'm finally reaching my potential of being able to get up onstage and make people laugh."
Article content
Brass describes her comedy style as that of a storyteller who capitalizes on a "gift of gab."
She utilizes personal experiences to entertain the audience.
"I've always specialized in telling stories," she said. "I'm taking from my life as an aunty (on Friday) because that's the theme of the show. Being an aunty, sometimes you're able to communicate with young nieces and nephews better than parents can. There are some funny stories because my nieces and nephews sometimes do some really wacky stuff."
The Aunty Show is part of a three-day event presented by the Regina Folk Festival, which promotes year-round concerts in addition to winter and summer festivals. Winterruption is a chain of indoor music festivals across Western Canada, including Saskatoon, Edmonton, Calgary, Winnipeg and Swift Current.
Article content
"The reason we put on Winterruption is to encourage artists to tour to the Prairies at the coldest time of the year," said RFF artistic director Amber Goodwyn. "Otherwise they're not likely to and the practical way to make it happen is if they have a little tour to build their travel around. That's why we work with partners in Manitoba, Saskatchewan and Alberta to make these opportunities available."
Winterruption features 18 performances over three days at The Exchange, Artesian, The Cure and Darke Hall, with a mix of free and ticketed events. Friday's headliner at the Artesian is 2022 Polaris Music Prize winner Pierre Kwenders of Montreal.
The complete lineup and ticket information can be found at reginafolkfestival.com.
Article content
This is the eighth year for Winterruption, which temporarily moved to an online format in 2021 due to the COVID pandemic. Organizers also had to push back last year's event to the spring.
"The pandemic has really changed the landscape," noted Goodwyn. "Right now we're learning about sustainability in all the things we do. Our focus is not about growing all the time. It's trying to stabilize and find the new rhythms of putting on shows and live music. Everybody is still trying to figure out the new reality.
"This year's Winterruption feels more like a quote-unquote 'normal' Winterruption. However, it would be more accurate to call it the new normal."
Patrons attending Winterruption will be required to wear masks in the venues. That policy is slated for review following this year's event "because we know that many things have changed," said Goodwyn, who realizes that some patrons could be discouraged by having to mask up.
"Certainly people will make their choices around that and there is nothing we can do. We're always trying to make the best decisions with the information we have at hand. We're paying attention to the evolving realities, which is why we're reviewing things in February. But we had concerts all throughout the fall of 2022; they were masked and it was perfectly fine."