Jaipur Literature Festival 2023: The Day 2 of the festival again had some amazing session delving into music, poetry and democracy.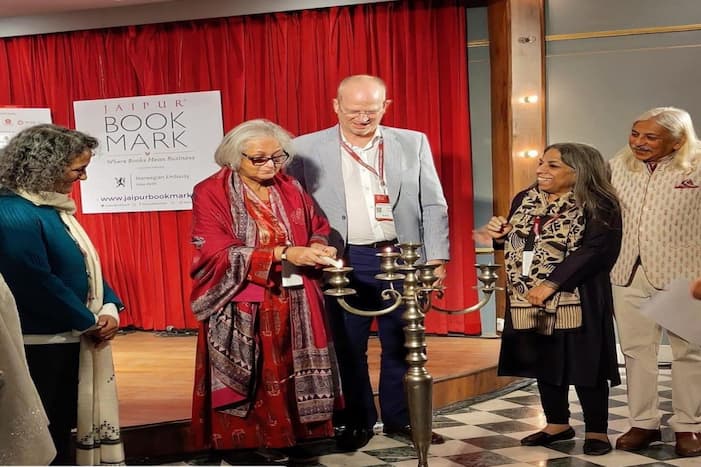 Jaipur Literature Festival 2023: The Greatest Literary Fest on Earth witnessed a great Day 1. With Day 2 settling in, there was an array of insightful session spanning from culture, music, poetry, book launch, democracy and more. Javed Akhtar, Shashi Tharoor,  Sudha Murthy, Namita Gokhale and many other scholars in their field took center stage and discussed on a spectrum of topics pertaining to contemporary era lifestyle.
"Govt reduced parliament to notice board, rubber stamp…"
The BJP government has successfully reduced Parliament to a "notice board and a rubber stamp", Congress MP Shashi Tharoor alleged at the Jaipur Literature Festival on Friday.
During a session titled "Sustaining Democracy; Nurturing Democracy", he claimed that tightening the already stringent Unlawful Activities (Prevention) Act (UAPA) in a way that kept people like Siddique Kappan in jail for two years without bail is one of the many ways the current dispensation has "managed to depart from the democratic spirit of the Constitution".
The government has been able to take "a lot of autocratic steps without ever having to declare an emergency", the Thiruvananthapuram MP alleged, adding, "You can call this an undeclared emergency."
"They did it under the ambit of the law and Constitution. Look at something like the tightening of the UAPA which has resulted in people getting thrown into jail without charge and bail in some cases for two years like the instance of Siddique Kappan," Tharoor said.
At the 16th edition of the literature festival, replying to a question about Parliament's ability to hold the government accountable, Tharoor said, "Under (Jawaharlal) Nehru, we had a parliament in which even ruling party members could challenge their prime minister, the minister of finance was forced to resign over a scandal exposed by backbenchers and we saw the prime minister held accountable to Parliament even during the 1962 China war."
Poetry, Gazals, Films
Eminent personalities like Javed Akhtar, Shabana Azmi, Gulzar confabulated on ideas of In the realm of music and bollywood.
Films are in the DNA of the country and we must "respect Indian films", said noted lyricist and screenwriter Javed Akhtar on Friday as he responded to a question about the social media trend of #BoycottBollywood. Akhtar termed Indian cinema "one of the strongest goodwill ambassadors in the world" at a press conference on the sidelines of the five-day literature gala.
Gulzar Saheb delights his fans and followers with the unique gift of his recent anthology, 'A Poem A Day'. The celebrated lyricist, poet and author's book is a unique amalgamation of 365 poems across continents and cultures. In today's session he discussed the power of poetry and the importance of the written word.
'More I Write, I Fear Less:' Ravish Kumar
Former anchor, journalist Ravish Kumar spoke at JLF  on  'The Nature of Fear'. On being asked what gave him the conviction to question those in position of power,  he said there are days when he doesn't have the courage to do it.
"There is so much impact on the mind and body that sometimes I leave it and you are doing it alone… I used to be a very fearful person, even about crossing a road. People who knew me back then were surprised 'How is he able to speak so much?' "There are many moments that end up giving you the courage. Writing helped me evolve a lot. The more I write, I fear less. The more I speak, that fear starts becoming even more insignificant. When the process of speaking ends, the fear starts to grow. That's why I start writing the next day. When you write you speak to yourself, there is no viewer. The more you face yourself, the more you will fight with yourself," he told a packed crowd at the Charbagh section of JLF.
Delving into the world of words in all spectrums of life from poetry, music, literature, to democracy, JLF is celebrating narratives and stories all across.
(All image credits: Jaipur Literature Festival Instagram Handle)
$(document).ready(function(){ $('#commentbtn').on("click",function(){ (function(d, s, id) { var js, fjs = d.getElementsByTagName(s)[0]; if (d.getElementById(id)) return; js = d.createElement(s); js.id = id; js.src = "//connect.facebook.net/en_US/all.js#xfbml=1&appId=178196885542208"; fjs.parentNode.insertBefore(js, fjs); }(document, 'script', 'facebook-jssdk'));
$(".cmntbox").toggle(); }); });



Source link