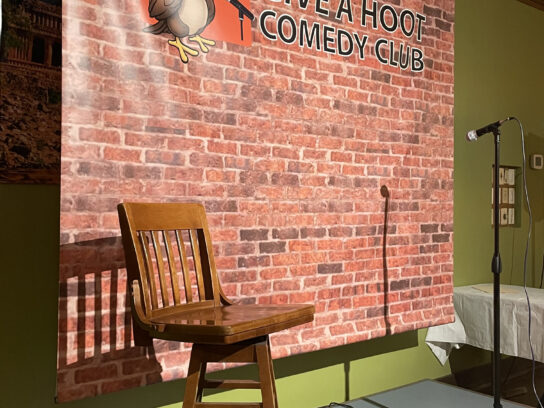 As of Friday, Montgomery County has its first ever full-time comedy club. Give a Hoot in Gaithersburg held a grand opening ceremony — including County Council president Evan Glass and Councilmember Laurie-Anne Sayles — Friday afternoon, hours before opening night.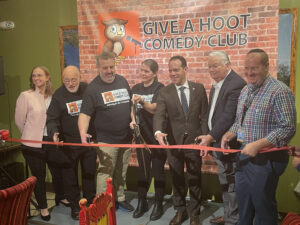 Give a Hoot is unique in that it is partnering with non-profits in Montgomery County every weekend and donating 50% of its gross income to those non-profit partners.
Shows are Fridays and Saturdays at 8 p.m. featuring "some of the best touring comics in the country that you may have seen on Comedy Central, Netflix, HULU and others" according to a press release.
Co-founder Irwin Weinstein told MyMCM "I'm most excited about helping out the organization, excited for Montgomery County to have a full-time comedy club and the ability to give people something to do other than watch Netflix. I'm excited about bringing some comics you've never heard of to the area. I'm generally excited and nervous about the whole experience."
Co-founder Ken Watter said "I'm most excited to see the crowd. I love to see the crowd's reaction when we tell jokes, I love to see people laugh and enjoy themselves and I love knowing that their money is going towards a good cause as well."
The club is located inside La Mexicana Restaurant at 16143 Shady Grove Road.
Friday's show is sold out. There are a few tickets available for Saturday's show. Tickets are $20 in advance, $25 at the door.
The club will have open mic nights on Wednesdays (free entry) and special events on Sundays including Murder Mystery, Hypnotist and others