If you're wondering why Ted Lasso season 3 is taking so damn long, it's (partially) because the Primetime Emmy-winning comedy series' co-creator Bill Lawrence and writer/executive producer/star Brett Goldstein have been busy with another Apple TV+ project: Shrinking starring Harrison Ford and How I Met Your Mother alum Jason Segel – the latter of whom also serves as co-creator this time around.
The premise is as follows:
Shrinking follows a grieving therapist Jimmy Johns (Jason Segel) who starts to break the rules and tell his clients exactly what he thinks. Ignoring his training and ethics, he finds himself making huge, tumultuous changes to people's lives… including his own.

---

---
RELATED: 'Ted Lasso' Season 3 Release Date Set For Autumn 2023 (Australia)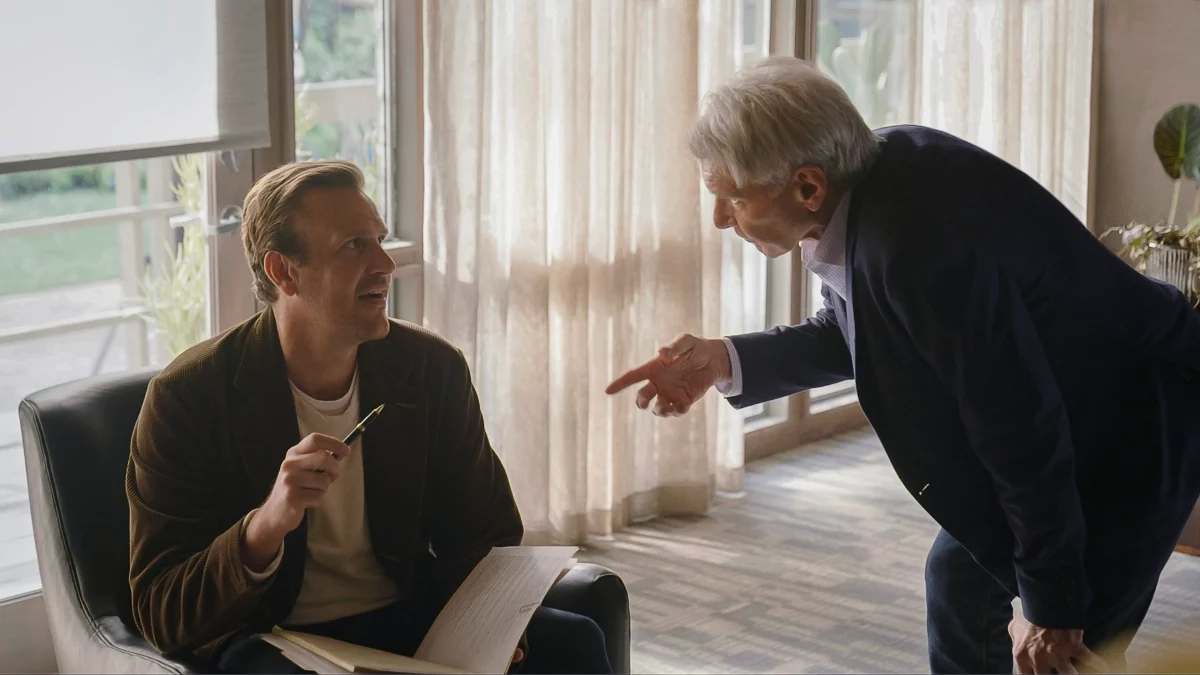 Shrinking represents the second series Harrison Ford, whose Shrinking character's name is Dr Phil Rhoades, has recently undertaken.
As some of you may already know, the Hollywood veteran is leading Taylor Sheridan's upcoming Yellowstone spin-off prequel 1923 alongside the Academy Award-winning Helen Mirren, both of whom portray yet another generation of ancestral Dutton family members.
Jason Segel, on the other hand, will be juggling the comedy in question with HBO's masterfully-crafted Winning Time: The Rise of the Lakers Dynasty. Although [SPOILERS] anyone even remotely familiar with the Showtimes Lakers story will tell you his character, Coach Paul Westhead, won't have much screen time for long.
The duo share a screen with Jessica Williams (2 Dope Queens), Christa Miller (Scrubs; reuniting with Bill Lawrence who was behind the medical dramedy), Michael Urie (Ugly Betty), Luke Tennie (Deadly Class), Lukita Maxwell (Generation), and Tilky Jones (One Tree Hill).
RELATED: If You Liked 'Ted Lasso', You're Going To Love 'Blue Mountain State'
As per Deadline:
---
---
Urie will play Brian, Jimmy's eternally optimistic best friend, who also happens to be a lawyer. Tennie plays Sean, a young military veteran who has recently come under Jimmy's care. Sean is a gentle giant with severe PTSD from his time in the service, and a strained relationship with his family due to his anger management issues. Maxwell portrays Alice, Jimmy's daughter. She's a very together kid who does well in school, however, life hasn't been easy for her — especially since her dad is emotionally unavailable.
But Christa Miller and Bill Lawrence won't be the sole reunion here. According to AVClub, the pilot has been helmed by James Ponsoldt, who previously directed Jason Segel for the quasi-David Foster Wallace biopic The End of the Tour.
Shrinking starring Harrison Ford and Jason Segel hits Apple TV+ with two episodes right off the bat on January 27th of 2023 (following eight episodes dropping weekly thereafter) – check out the full-length trailer above.