Brian O'Halloran and Jeff Anderson helped create two of pop culture's relevant everyman characters in Dante Hicks and Randal Graves when they starred in the underground hit Clerks in 1994. It would also help launch director Kevin Smith's View Askewniverse, which also includes other franchises like Mallrats, Dogma, Jay and Silent Bob, etc. The film's success would naturally spawn sequels in 2006's Clerks II and 2022's Clerks III, and the short-lived Clerks: The Animated Series for ABC. While promoting the Lionsgate film, O'Halloran spoke with Bleeding Cool about the possibility of the franchise returning to TV perhaps as a prequel or another animated series.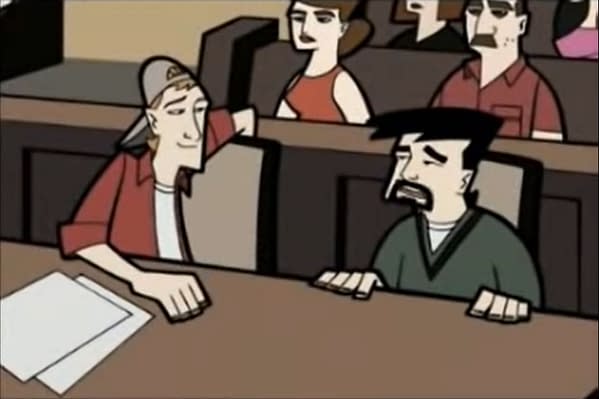 Other Possible Clerks Live-Action or New Animated TV Series?
When asked if the idea was ever floated about a prequel series that precedes the 1994 film that might have Dante and Randal sharing their memories of their childhood, adolescence, and entry into adulthood, O'Halloran was intrigued about a "The Wonder Years: Clerks Edition." "Never thought about replacing us or even having a younger us," he said. "If we were to revisit that type of scenario, we've all agreed that it'd be best done in an animated format in which we are ready to go do an animated format." The actor broke down what platform he also sees it happening on and the technicalities the new show runs into.
"Hulu would be the only outlet since Disney owns the original version of the 'Clerks: The Animated Series,'" O'Halloran said. "Now, Kevin can do a 'Clerks' animated series any time he wants. It just can't be the same art style, and some of the other ancillary characters wouldn't be part of that world." The original CTAS only lasted two episodes before ABC's cancelation, with six being produced that not only featured O'Halloran and Anderson's characters but also Jason Mewes and Smith as the voices of Jay and Silent Bob, respectively. Clerks III, which also stars Trevor Fehrman, Marilyn Ghigliotti, Amy Sedaris, and Rosario Dawson, is available on digital and comes to 4K Ultra HD, Blu-ray, and DVD on December 6th.