NOW'S THE TIME, THE TIME IS NOW: Rapper Niño Brown has yet to release an album but continues his string of singles. The newest is "Jailhouse Ramble." It's not a hip-hop track, either. It's also unlike Brown's earlier work, when he operated as an acoustic troubadour under his birth name, Cortez Garza. This is a claustrophobic blues number that slithers, not struts. I wish I'd been given a lyrics sheet for this, but as best as I can tell, the song is a story of murder and revenge. At least that's what the video appears to portray, which is another way of saying go find this on YouTube, because that's the only way you can hear it right now. 
ONE OF THE MOST ZEN PLACES ON EARTH: Bill Cody, the producer of both the 1986 classic Athens, GA: Inside/Out and its 2021 semi-sequel Athens/Inside-Out 2: Red Turns into Blue, has recently relocated permanently to the Classic City from Los Angeles. So, welcome to town, Bill! In other news, on Wednesday, Nov. 9 from 5–9 p.m., The Richard B. Russell Special Collections Libraries will host a guided tour of its current collection "Georgia on my Mind: Finding Belonging in Music History" followed by back-to-back screenings of each film. The event is free and happens in room 271. For more information, please see libs.uga.edu/events or drop a line to event contact jess.grant@uga.edu.
A SIMPLE PROPELLER TO OCCUPY MY TIME: Fairly new label Propeller Sound Recordings, which is making quick work establishing itself as a label dedicated to classic Athens and Athens-adjacent recordings, will re-release Squalls' self-titled 1984 debut EP on Friday, Nov. 4. Originally released on founding member Bob Hay's MBrella Records, this new edition is expanded with an additional five rare tracks. A release party is slated at Ciné on Friday, Nov. 18. This past August Strolling Bones Records released the electrifying Live From The 40 Watt album, which is a collection of 24 songs recorded by legendary 40 Watt soundman Patton T. Biddle and composed of performances from approximately five shows from the early 1980s. Squalls existed from 1981 to 1989, and while garnering a good amount of popularity locally, the group's profile was substantially raised by its inclusion in the aforementioned Bill Cody film from 1986. For more information, please see squalls.bandcamp.com, propellersoundrecordings.com and facebook.com/Squallsband.
DOUBLE HEADER: Although there's a tendency to tag them with the imperfect categorization of "jam band," hardworking locals The Orange Constant is actually like many of its peers and draws from blues, folk, rock, funk and loads of other genres. And fortunately, unlike many of its peers, the band's pretty consistently successful with its execution thereof. Now, it's trying something it's not done before. On Friday, Nov. 4 and Saturday, Nov. 5, the group will play a two-night run at the 40 Watt. Tickets for each show are $12 in advance, $15 at the door and $20 for a two-day pass. Openers on Friday are Florida Man and Frute, and openers on Saturday are Cam and His Dam Jam Band and TAND. Doors open at 7 p.m. each night, and music begins at 8 p.m. For more information, please see theorangeconstant.com, and for advance tickets, please see 40watt.com.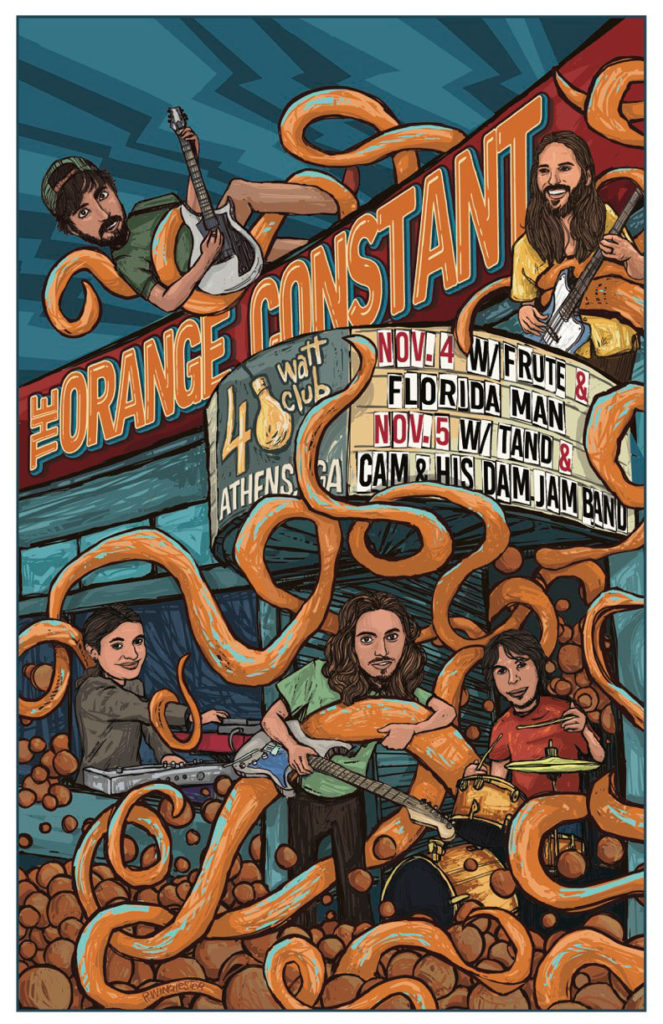 UNDER THE BUSHES, UNDER THE STARS: Few labels in town have ever been as consistently satisfying as Gypsy Farm. Earlier this month, the label released the excellent compilation Tape Feed, Vol: 2 featuring a tight set of 11 tracks. This release was produced with assistance from the Athens Area Arts Council, and its goal is to help raise donations for the food bank. Volume 1 of this series helped provide approximately 1,200 meals. While remaining technically genre-less, the label has done a stupendous job over the years of creating its own identity through its propagation of multiple underground creative styles from roots country to garage rock to indie pop and more. In a very real sense, it's a spiritual heir to labels such as Capricorn and IRS. Featured on this new collection are tracks from Bat & The Bears, Marble Soup, The Drovers Old Time Medicine Show, Thee Crucials, The Bear Traps, The Humms, Tommy Powell, Outersea, Shoal Creek Stranglers, The Gravely Stoned and The Ice Creams. Find this and more over at  gypsyfarmrecords.bandcamp.com, and for more information, please see gypsyfarm.net.
BE PREPARED: Dylan Loftin (Nihilist Cheerleader) has a project named Eagle Scout, and last month he released a full album titled Early Bird. I've been meaning to cover this for weeks but, you know, best laid plans and all. I'm not much for the opening song "Steady Eye" which, with its jittery tempo, is anything but. However, between songs 2 and 11, Loftin glides along quite smoothly and delves into well-thought-out indie rock ("Flying Under The Radar," "I Miss Running Into You" and the Beatle-esque "In Third Person"), a slight touch of Tin Pan Alley ("Won Me Over") and some softer, reflective material ("Letters" and the title track "How It Ends"). To my ears, this is very much a demo and not very polished, which is exactly how I enjoy hearing new projects. Find this at eaglescout1.bandcamp.com.
Like what you just read? Support Flagpole by making a donation today. Every dollar you give helps fund our ongoing mission to provide Athens with quality, independent journalism.